2720 Oakview Rd.

,

Templeton

93465
The Donati Family Vineyard
he Donati Family Estate Vineyard site enjoys a variety of soils from limestone to decomposed granite to clay loam, and access to the cooling ocean breezes of the Monterey Bay. Like much of southern Napa, Sonoma, and Monterey counties, Paicines has long warm days followed by cool nights.
"It's a lot cooler than people think it would be here", says Matt. "On the UC Davis scale of growing areas and heat where Region I is the coolest and V the warmest, Paicines is a cool Region II."
The vineyard is planted to various select clones of Chardonnay, Cabernet Sauvignon, Merlot, Cabernet Franc, Malbec, Syrah, Pinot Grigio, Pinot Blanc and Petit Verdot. Vine selections are carefully screened for viral diseases prior to planting, ensuring that the future of the vineyard is secure, and that vine health and fruit integrity remain intact from planting through harvest.
Matt Donati believes in hands-on year-round vineyard management to create an environment where the grapes themselves can be left alone to thrive during ripening. Regular, judicious thinning of shoots during the growing season, attention to every detail of vine canopy training and light management within the fruiting zone, pre and post-veraison green fruit removal, along with scientific analysis of soil and leaf moisture throughout the growing season ensures that every aspect of the Donati Estate viticultural program contributes to the success of the vintage.
Primary efforts are directed at sustainable farming, allowing for natural predators and reduced use of pesticides to provide a clean, hospitable environment for vine growth and fruit maturation. Of course, this path of action requires extreme diligence in scouting for possible problems. But, with active personnel regularly hand-tending each and every vine, the family is gradually learning that effective and efficient sustainable practices can indeed make a significant difference in both the local environment and in the ultimate grape and wine quality.
The Donati Family Tasting Room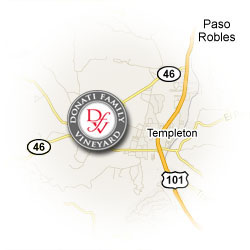 Located on the corner of Highway 46 West and Vineyard Drive, the Donati Family Tasting Room is a popular destination along the Highway 46 Wine Trail. The three story building looks like a European Chateau nestled in the hills of Templeton, CA.
As a full production Winery, our Tasting Room is a great stop to make on your next Central Coast Wine Country excursion. Give us a call before you visit and we will be more than happy to accommodate any size group. If tasting great wine is what motivates you, drop by and try our wines, discover what we are all about, and take home some of the best wine on the Central Coast!
Because wine tasting can be hard work, Donati Family Vineyard offers a great spot to relax among the vines. Tasting Room guests are free to use our picnic grounds and Bocce courts.
We hope to see you soon. Please contact us if you have any questions - we're here to help!
Can't make it to our brick and mortar location, but still want to try our wine? No problem! We offer our wines for sale online. You can still browse our selection here!