P.O. Box 2459

,

Paso Robles

93446
The history of Eberle Winery dates back to 1979, when Gary produced his first bottle of Eberle Cabernet Sauvignon. Now, more than two decades later, we're celebrating our 25th Anniversary of making ultra-premium wines exclusively from the Paso Robles Appellation.
During the 1950's and 1960's, several vineyards were planted in the Paso Robles region, yet there was not a winery truly competing on a national or international level. The arrival of Gary Eberle in 1972 began one of the brightest winemaking chapters in the history of Paso Robles.
A native of Pittsburgh, Pennsylvania, Eberle started his college career in 1962 at Pennsylvania State University, commonly known as Penn State. Given a full scholarship, Gary balanced his duties as a defensive lineman for the football team and as a student studying biology. Eberle moved to Louisiana where he did his graduate work in cellular genetics at Louisiana State University (LSU).
During his time at LSU, a professor introduced him to the magical world of food and wine. Tasting a sampling of fine, classified growth Bordeaux from his professor's cellar, Eberle took a keen interest in Cabernet Sauvignon. He began to envision the possibility of creating a wine that would rival those of Bordeaux and soon found himself on an airplane to California.
He arrived at the University of California at Davis, where he met with the chair of the enology department and explained that he wanted to become a winemaker. Impressed with Eberle's credentials, the professor admitted him to the doctoral program without the usual qualifying exam.
During his work at Davis, Eberle realized the untapped potential of the Paso Robles region and decided it was where his winemaking future lay and arrived in 1973. After founding the Estrella River Winery, Eberle yearned for his own winery focusing on premium red wines. The dream was realized with the release of his first "Eberle" wine, a 1979 Cabernet Sauvignon in 1982. To date, Eberle Winery remains one of the highest award-winning wineries in California, consistently ranking in the top 20 of more than 1500 wineries now operating in the state.
The Boar
The German name "Eberle" translates to "small boar." At Eberle Winery, a bronze boar greets every guest who visits the Tasting Room. The statue is the 93rd replica of the original bronze Porcellino cast by Tacca in 1620. And today, the original can be found in the straw market in Florence, Italy. It is considered good luck to rub the boar's nose and toss a coin in the water below. All money collected at the Eberle boar fountain is donated to local children's charities.
TASTING
Enjoy complimentary wine tasting and wine tours! No reservations necessary for groups under 10 people.
Coming with a large party? Reservations are needed for groups of 10 or more. Cost is $10 per person. Groups receive a private tasting/tour and a 20% discount on anything purchased that day!
WINERY & CAVE TOURS
Complimentary public tours of the production facility and the Eberle Caves run daily every half hour from 10:30 AM - 5 PM. No Reservations required except for groups of 10 or more guests.
VIP Tours & Tasting held in the VIP room located in the Eberle Caves can be booked in advance for a unique and memorable experience. Includes a private tasting with attendant and cheese plate paired with the wines. $35 per person - Max. 8 people. Cancelations required 24 hours in advance, $20 fee for last minute cancelations. Call 805.238.9607 to make a reservation!
SCENIC DECK & ENTERTAINMENT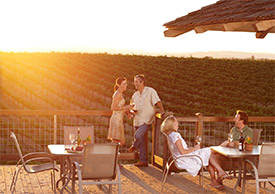 Enjoy a glass or bottle of wine on our scenic deck overlooking the 38 acre Estate Vineyard with the Santa Lucia Mountains in the background. Bring a picnic to pair with your favorite wines, or gourmet picnic lunches may be ordered 72 hours in advance ready for you when you arrive. For the more active wine aficionados, a bocce ball court & cornhole await your challenge.
QUICK LINKS TO YOUR EXPERIENCE...
For general questions or inquiries regarding your visit to Eberle Winery, please contact the Tasting Room using the information below: